Veterinarian Madalyn Ward provides information about basic horse care, horse hoof care, and treatment for equine founder in horses. Dr. Ward is a horse chiropractor specializing in foundered horses, horse nutrition, equine acupuncture, treatment of equine health problems and healing. Through her blog and newsletter, Madalyn provides additional advice on horse supplements, equine nutrition, laminitis, and horse and mule health.
Read Dr. Ward's Most Recent Blog Post…
Holistic Horse Health: The Buzz From the Barn
Madalyn Ward, DVM shares her answers to specific holistic horse care questions from clients.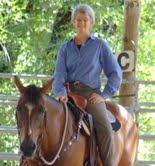 Q – "I have a question about using the New Earth Essentials Blend.  The bottle states that humans should take 1 tsp. but I thought you told me my horse should also receive 1 tsp. per day? Are we just starting out slowly then increasing at some point?  Also, do I continue to give my horse a multivitamin like Transfer Factor or does the Essentials Blend cover everything she would require?"
A – "Horses do take the same amount of Essentials Blend as people. Even big horses. This puzzled me until I started reading about the power of whole foods like blue green algae to heal our DNA. The body can use the algae and other whole foods in the blend to heal on the level of the DNA so very little is needed. The vitamins and minerals are also almost 100% assimilated.  I am not sure about Transfer Factor, but many multivitamins are mainly synthetic in origin. The Essentials can replace formulated, synthetic products. If the Transfer Factors is whole food based, you can continue it along with the Blend."
If you enjoyed this post or found it helpful, let me know by leaving a comment below. You can also find me on Facebook where I always appreciate a LIKE. To order any of the products mentioned in this post or other  products for you or your horses, please visit my online store.